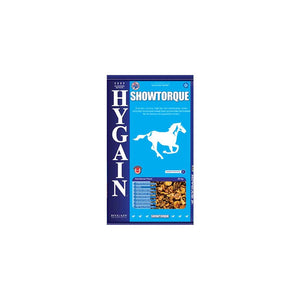 Hygain Showtorque 20kg
$5200

$52.00
Tax included.
---
---
CLICK & COLLECT ONLY. NOT SHIPPABLE.
The HYGAIN® product range is backed by HYGAIN®'s commitment to excellence encompassing all equine activities.
HYGAIN SHOWTORQUE is not only a low dose, high fat, cereal grain free feed, that promotes lean muscle mass development, no, on top of all that it also enhances hoof growth and coat shine.
Topline building at its best, HYGAIN SHOWTORQUE provides sensible energy through slow release sources combined with essential amino acids and bio-available antioxidants for muscle tissue repair and to help manage the stresses of training and competition.