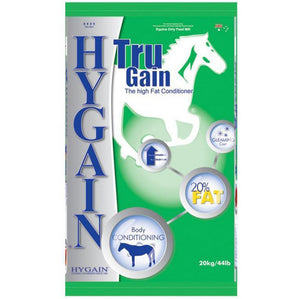 Hygain Tru Gain 20kg
$6200

$62.00
Tax included.
---
---
CLICK & COLLECT ONLY. NOT SHIPPABLE.
The HYGAIN® product range is backed by HYGAIN®'s commitment to excellence encompassing all equine activities.
HYGAIN TRU GAIN® is a safe (slow release) and effective extruded high fat supplement, providing your horse with a cool energy source along with bio-available Vitamin E and Selenium. The increased energy density is designed to rapidly boost your horse's body condition and assist performance horses in meeting their energy requirements.