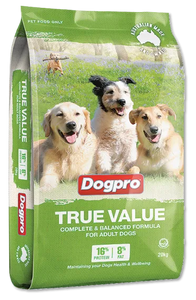 Dogpro True Value 20kg
$4500

$45.00
Tax included.
---
---
CLICK & COLLECT ONLY. Call to discuss freight arrangements
Dogpro True Value is a nutritionally complete dry dog food specially formulated to promote the health and wellbeing of all domestic adult dogs.
COMPLETE & BALANCED FORMULA FOR ADULT DOGS
Maintaining your Dogs Health & Wellbeing
Wholegrain cereals &/or cereal by products (including wheat, corn, sorghum &/or rice), Meat & meat by-products (beef, chicken, &/or lamb), Tallow &/or oils (beef, poultry, vegetable), Chicken gravy, Salt, Essential minerals (calcium, phosphorus, potassium, magnesium, iron, copper, zinc, manganese, iodine, selenium), Vegetables (peas &/or beans), Essential vitamins (Vit A, D3, E, C, B1, B2, B3, B5, B6, folic acid, B12, choline), Natural Antioxidants.