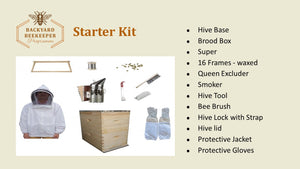 Beekeeping Starter Kit
$55000

$550.00
Tax included.
---
---
CLICK & COLLECT ONLY
You can secure your starter kit with a $50 deposit. Kits will be available mid August 2023
Beekeeping Starter Kit contains
8 Frame Hive base
8 Frame Full Depth Brood Box
8 Frame Full Depth Super
16 Frames - Wooden Frame, Plastic Insert with Beeswax
Emlock with Strap
Hooded Jacket (sizes S, M, L,XL, XXL, XXXL
Wire Queen Excluder
Smoker
Bee Brush
Protective Gloves
NOTE: Hive boxes come as a flat pack. Boxes need to be assembled and painted with an oil based paint.